---
never seen a D3 in that colour combo before. These were all standardised spec from Sytners to get the price down iirc. They were £500 cheaper than the 320D m sport. And if you wanted something fitted outside of this you had to pay £2000 plus the cost of the extra!!! so in this case Alpina blue / green paint has always been a £1500 plus option plus 2k plus the cost of the cream interior

Mental, at least buy the touring and do that!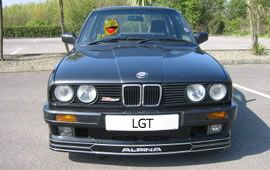 ---
---
Roy Allan
F31 D3 Biturbo #066
D3 BT Coupe #164 (sold)
Suzuki SV 650s
---
---
Delivered by John Clark Dundee in June or July 2007.
This is the car that made me decide on my first Alpina, and leave a deposit with Dundee that same day.
Gorgeous car when new. I've got photos of the car on an old memory stick somewhere that I will need to dig out sometime.
I'd need to check my pics, but i don't remember the car having decals when i saw it...

Onzie
B6 Convertible
B3s Bi-Turbo Tourer
---
Looking at the photos it could be in Falkirk as that looks like it has been taken near the Falkirk wheel. A very nice looking car though. Wonder why they didn't add the business system with nav after paying the optional upgrade price, would have made it even more special.
John
Alpina Blue B10 V8S #54 Saloon
Montreal Red F20 M-Sport
Sparkling Bronze F30 Xdrive (sold)
Titan Silver E90 325iSE (sold)
Blue Mini Cooper (sold)
---
---