Looking very tidy.
Owner must be on here
Current
2004 BMW B3S #156 (Keeper)
2015 BMW 320d F30 ED Sport (70mpg)
Previous
2011, 2016, 2018 - Kia Sportage (Rolls Royce customer care)
2007 BMW Z4M E86 Coupe (Animal)
2006 Audi A4 B7 2.0T (Good car)
2001 VW Golf GTI MK4 (Meh)
1994 Ford Escort 1.6 Zetec (light n dandy)
1992 Fiat Tipo GT (Fun car)
1991 Ford Orion 1.6 Ghia (beefy engine)
1984 Ford Fiesta 1.1L (Audio more expensive then car)
---
I have one of the very few blue E46 Tourings and it wasn't me.
Was it post or pre facelift ?
That might narrow it down.......
B3 3.3 Coupe #090
D3 2.0 Biturbo Touring #098
---
and so do i, but it wasn't me. Mines tucked in the garage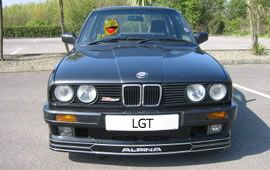 ---