Hector's Dad
ALP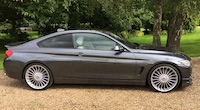 Joined: 22 Jun 2009
Posts: 272
Location: Hampshire
Posted: Sun Dec 12, 2010 1:08 am

Post subject: Anyone live in Reigate?

---

For us, Reigate is a well placed (mid way between all parties) location for a family pre-Christmas lunch time meet and I've been charged with finding a pub or restaurant (not too posh!) with a good selection of food, including vegetarian. Any suggestions?